The Top 5 Twitter Marketing Strategies
Published on 06.07.2023 by Mia
With over 353.90 million active users, Twitter is considered as one of the best platforms for social media marketing. This platform differs from any other social media platform terms of its audience reach. You do not have to pay for your marketing campaigns here. Twitter is the favorite of many big brands to reach new customers as a free and easy marketing tool. More than that, Twitter is a source of valuable information. Due to the overpopulation of platforms like Facebook and Instagram, Twitter marketing has become the easiest way to generate leads.
However, Twitter marketing has some challenges too. As a business owner, you have to deal with competition on here, just like on any other social media. To achieve success in your Twitter marketing campaign, your strategies must be efficient and algorithm-friendly. Paying attention to the specifics of the platform will give an advantage over your competitors. In this article, we will discuss the overall Twitter marketing techniques and set the 5 best Twitter marketing strategies.
What is Twitter marketing?
Twitter marketing refers to the use of the Twitter for promoting and branding of your products and services. It includes engaging with existing or potential customers as well as business partners. Twitter is one of the most effective tools for marketing and promotion. Marketing on Twitter involves creating and sharing customized content to increase brand awareness, drive traffic to your website, generate leads and ultimately, boost sales. Twitter offers you a number of marketing options, including tweets, retweets, mentions, hashtags, group chats, lives and ads.
To be successful in your Twitter marketing, you must first have a clear strategy and understanding of the target audience. In addition, you should regularly monitor and analyze the results of your activities in order to determine what works and what doesn't so that you can adjust your strategy accordingly. Building a strong presence on Twitter, you can definitely enhance your brand reputation and reach wider audiences.
How does Twitter marketing benefit businesses?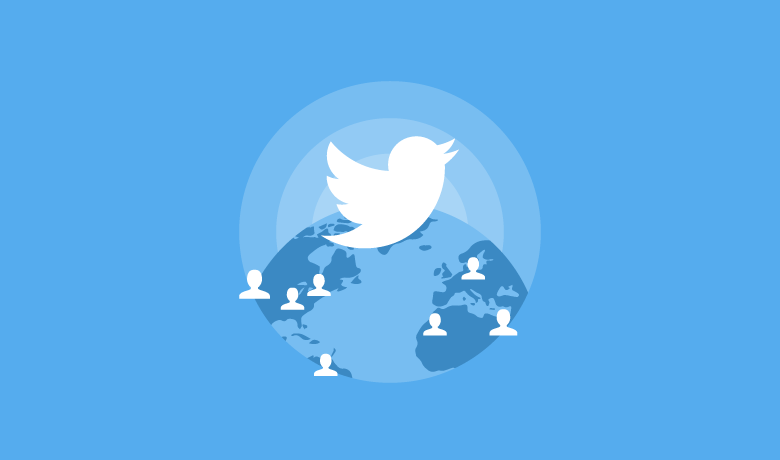 Twitter is a social media platform used mostly by younger generation and professionals. Because of this, you can target "trendy" and engaged customers or business partners for both B2B and B2C ventures. Here's how Twitter marketing can benefit your business:
Increased brand awareness
Twitter marketing involves a routine activity of regularly posting your content. If you regularly share content and engage with the people who engage with it, you can increase your brand visibility and reach over time by gaining new followers. This can further lead to greater brand recognition and awareness.
Customer engagement
Twitter is one of the biggest social media platforms. With the passage of time, it has crossed the popularity of other similar platforms in terms of engagement and unique user range. Twitter provides a platform for you to directly engage with your followers or non-followers and turn them into your customers. Twitter algorithm is perfect for helping you build strong relationships and loyalty. Especially with the addition of "circles".
Lead generation
Twitter features a lot of different options for attracting your target audience such as Tweets, hashtags, videos, direct messaging, and more. You can use any of them separately or in combination to generate leads by sharing content and promoting products or services to potential customers.
Website traffic
Twitter marketing is a useful tool for generating traffic to your website. You can include links to your site in your tweets and create affiliations. You can also provide links in your video descriptions, put it as a part of your profile bio or share it during Twitter lives.
Competitive advantage
Twitter provides a way for you to keep track of your competitors and stay up-to-date with industry trends. The platform has one of the most comprehensive analytics tools that can help you stay ahead of the curve by benchmarking your activities with your competitors.
Cost-effective advertising
Twitter provides you with a free space for marketing your brand. Its ad costs are also lower compared to other social media. Twitter advertising is a cost-effective way to reach a specific audience and promote products or services. You can also advertise your products by creating tweets sharing your work or putting a link to your portfolio/website/store. This is what most artists and authors do.
Types of Twitter marketing
There are several types of marketing that businesses can use to promote their brand, products or services, and engage with their target audience. Here are some common types of Twitter marketing:
Organic tweets: Organic tweets are regular tweets you can send (up to 1K per day). They include updates on products, services, industry news, or other relevant information.
Twitter chats: A Twitter chat is a live, public conversation that takes place on Twitter around a specific hashtag. You can participate in existing Twitter chats or create their own to engage with their target audience and build a community. You have to be added to the chat, or create one yourself. Similar with circles.
Twitter ads: Twitter offers several advertising options, including promoted tweets, promoted accounts, and promoted trends. You can use Twitter ads to target specific audiences and increase visibility.
Influencer marketing: You can work with Twitter influencers to promote your products or services to a wider audience. Influencer marketing is a popular marketing tool for businesses. Influencers can be celebrities, industry experts, or individuals with

a large following on the platform

.

Hashtag campaigns: Hashtags are a powerful tool for organizing conversations on Twitter. You can create a hashtag campaign around a specific product or event to encourage engagement and increase visibility.
Twitter contests: Contests can be a fun and engaging way to promote a brand on Twitter. You can run Twitter contests that require users to tweet a certain hashtag or participate in other activities to win prizes.
5 best strategies for marketing on Twitter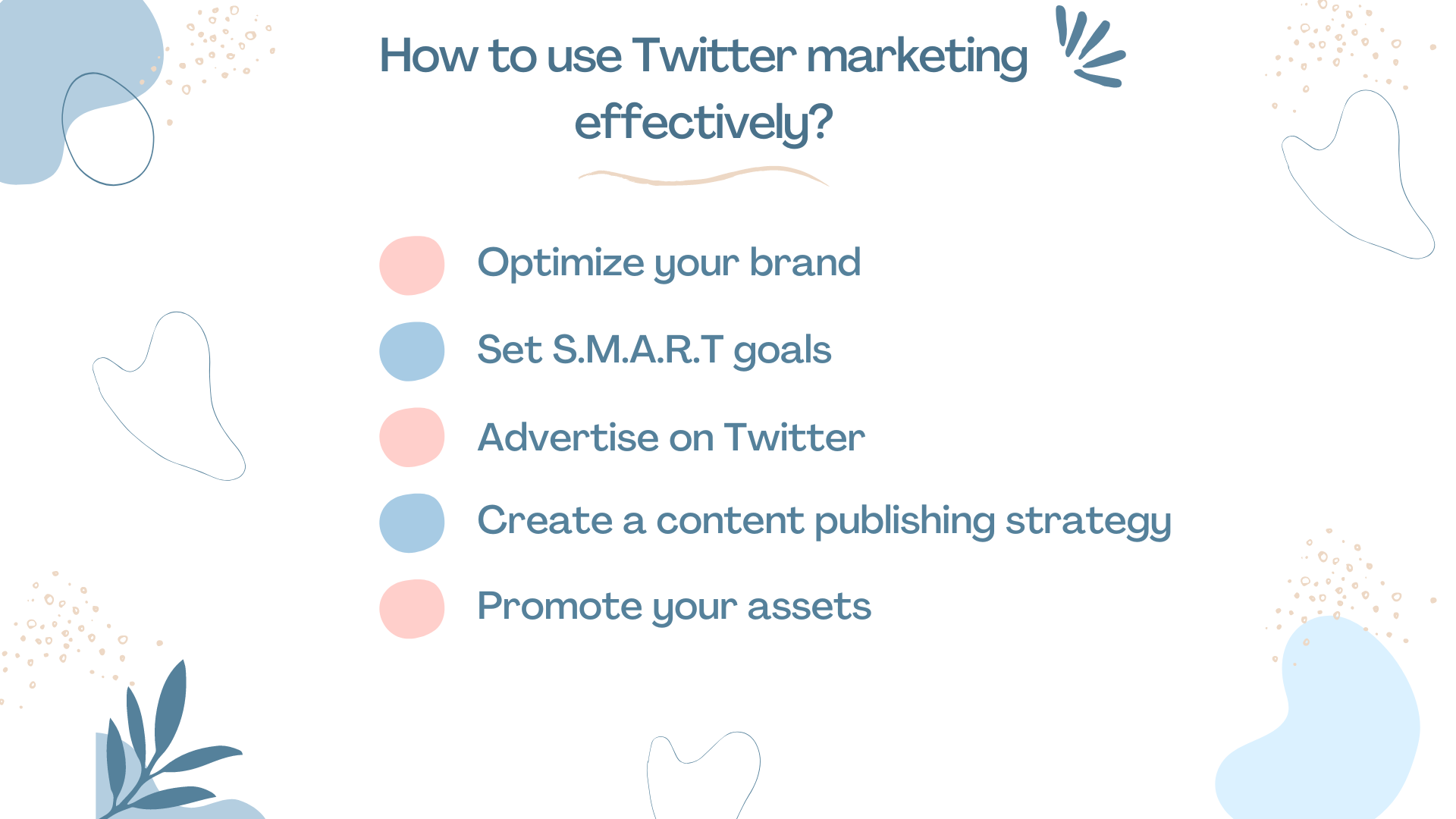 There is no set-in strategy for Twitter marketing because one thing may work better for a particular brand but not for the other. But there are some common things that have been proven to be successful for everybody. Here are five effective strategies for Twitter marketing:
Develop a clear strategy
The first thing to do is to plan your strategy before executing it. You have to define your goals, target audience, messaging, and tone of voice. Decide on the type of content you will share, when and how often you will post. Lastly, determine the measurement tools for the success of your campaign.
Engage with your audience
You can engage with your audience by responding to their tweets, retweeting their posts, and participating in Twitter chats or be a part of beneficial circles. These will help you build relationships with your followers and establish your brand as approachable and trustworthy.
Use visual content
Twitter is a straightforward platform, so incorporating images and videos in your tweets can make your content more appealing and increase engagement. Infographics, GIFs, and short videos are great options. So use them as much as possible.
Utilize Twitter Ads
Twitter Ads can be an effective way to reach a targeted audience and increase brand awareness. Use Twitter's targeting options for specific demographics, interests, or behaviors. Plan your ads strategy by determining the budget and schedule for running it.
Monitor and analyze performance
Last but not least, to achieve success in Twitter marketing, you have to track your analytics on a regular basis. Twitter analytics enables you to evaluate the ROI of your ad campaign and the success rate of your overall efforts.
Conclusion
Twitter marketing is a powerful tool for businesses to connect with customers, increase brand awareness, and drive sales. But before you use this tool, you have to know the marketing techniques available on the platform. Strategies differ from brand to brand. Your Twitter marketing must be clear, compelling and distinctive to achieve success over your competitors. The above strategies are the best to follow as they cover the core activities you can do on Twitter.