How To Get The Perfect Username On Instagram
Published on 21.02.2023 by Ice Geek
Getting the perfect username is as important as anything else when it comes to Instagram account optimization. Your username is your identity and the face of your brand. It's what users come across when they visit your page for the first time. Hence, it needs to be unique, catchy, memorable and have the potential to become iconic. Your username gives you the edge you need to drive traffic to your channel, so you have to get it right. The username has to represent your business page well, or reflect at least some part of your identity as an individual. Since there are so many users on Instagram (and other social media networks), picking the right username that's both unique and memorable is not easy. Most are already taken, or there's character limit. So what can one do to obtain the username they want?
About Instagram Account Name
An Instagram account name can be up to 30 characters long. Account name works similarly to the domain name of a website. On Instagram, the criteria to search for users is by their name and not their bios or posts (excluding hashtagging here). Your Instagram name is the focus keyword, and should be treated as such. An Instagram name comes in two parts:
Instagram Username: This is the first part of creating an Instagram account. It is the clickable name with an @ sign, limited to 30 characters. It must contain letters, numbers, periods, and underscores only. Do not add any signs or symbols to the username. Note also that there are limits to the frequency with which you can change the username.
Display Name: Describes what your page is about, indicates your official name or any other public information. It is also limited to 30 characters and can contain letters, spaces, and Unicode symbols. It can be made unique with special custom fonts. Furthermore, you can change it anytime.
How To Get The Perfect Username on Instagram
To execute the task easily, consider two steps:
Research your username idea: usually what most people do. You can get the inspiration from other websites, blogs, Google or from anywhere else.
Research competitor's username idea: for businesses and influencers and this one is a bit more complicated as you have to consider what successful competitors did regarding their usernames and mimic them in a unique way.
Research Your Username Idea
Start by brainstorming ideas for your Instagram username. Think about what you want to convey about yourself or your brand and what type of name would be memorable and easy to search.
#1 Clarify The Purpose Of The Page
Pay close attention to the content of your page. Is the page is your personal blog, for business, or for a public figure? Does it focus on a special niche? When you are clear on the purpose of the page, you can narrow down your options.
#2 Check Social Media Platforms
Even if your Instagram username is available, it's a good idea to check if it's available on other social media platforms as well. This will help ensure consistency and make it easier for people to find and follow you across different platforms.
#3 Troubleshoot
Once you have a few ideas in mind, it's time to check if they're available on Instagram. You can do this by simply typing the username into the search bar on the app. If it's already taken, you'll need to come up with a new idea. How to go about it is to check the list you made sing the following five criteria: pronunciation, uniqueness, symbols, taboos, and web similarities.
Pronunciation: select one that is easy to pronounce or read without stuttering. The rule of thumb is to choose names that rhymes well and rings right, even if its long, for instance Rihanna's IG name @badgalriri
Uniqueness: Do your best to avoid close similarities to any other brand names, otherwise, you will stay under the shadow of a bigger competitor. If you're planning on using your Instagram account for business purposes, it's important to check if your username is already trademarked. You can do this by using the United States Patent and Trademark Office's search tool.
Symbols: Symbols can be cool, but it's best not to over use them in your account name. If you have to use them, try to restrict yourself to only one, i.e.. a period or an underscore. One useful trend regarding usernames is to divide it with a dot, like this: @candy.apple
Taboos: Examples of taboos include gender, ethnicity, and religion. The best practice is to keep taboos out of your name unless it is your specific niche. Being offensive even if it's accidental can cost you a lot.
Website Similarity: When choosing a name, try to see the bigger picture. Adopt your Instagram username as your website or other social media @s if possible. You can even include it in your work email.
The next step is benchmarking competitors.
Research Competitor's Usernames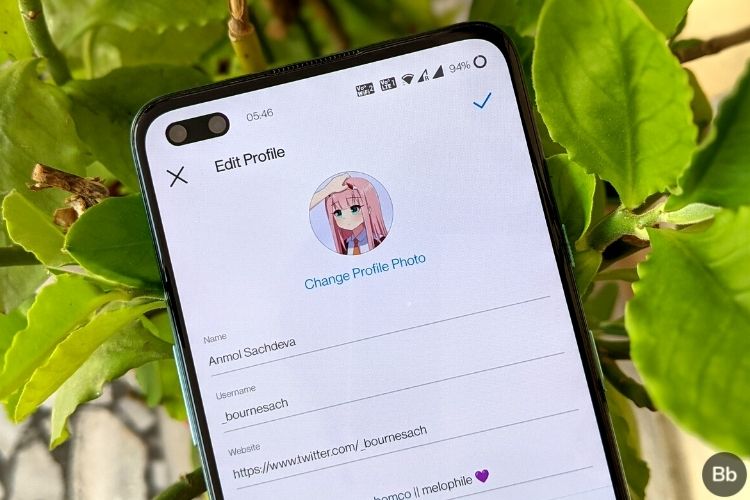 "No man is an island," a famous line from Devotions upon Emergent Occasions, a 1624 prose work written by English poet John Donne, proves true today. Going back to our topic, to create the perfect username, you need to sample what successful competitors have done that worked well. Analyze the profile usernames of established accounts in the niche you'll be tapping in. Avoid copying though. Give it a unique edge that will distinguish you from them. Don't restrict your search to the Instagram search bar, Google, other social media platforms (Tumblr surprisingly), hashtags will definitely come in handy.
General Tips To Get It Right With Instagram Username
Be Original: Without sounding like a broken record being original or unique is the best trick to get followers to come to your channel. It separates you from the rest. Ensure you pick a striking name that is not easy to forget and has the potential of becoming iconic.
Be Simple: A username should not look like a scientific formula. It should be easy to recall. Think about how many people know Elon Musk's name VS his kid's. The same principle applies here.
Be Brief: Shakespeare said, "Brevity" is the soul of wit", which means shorter is better. Again, @gorgeousphotography is surely less memorable than @prettypics
Be Uniform and Consistent: Use uniform names throughout your social networks for consistency. It makes it easy to get networking.
Quick Cheat Sheet to Get The Perfect Username on Instagram
Even after taking the aforementioned advice into consideration, several issues can arise when registering your name. The section gives you a brief overview of some potential problems. What would you do, for instance, if your name was already taken and you have no other ideas?
Use your own name: If the Instagram page is personal, it's perfectly okay to go by your own name.
Rhymed words: Use rhyming words to make them easier to remember. Try to look for witty rhymes to attract attention. Alliteration is another good option here.
Modify it just a little: do this when Instagram rejects your attempt to use a name because it already exists. To set it apart from other Amazon pages, for instance, if you are starting out as an agent for a company like Amazon, you may make it Amazon UK.
Add geographical zone: another cheat to overcome rejection due to an already existing name is to add a geographical zone to it. With that, you make it more localized.
Add the word "Official": add the word "official" at the end of the username. If you are a public figure or a brand, it's likely that the fans have already opened a fan page with your name as the @. Don't forget to apply for the verification of your account to show that it's really you.
Add "I am": quite fashionable today to see a username as @iamcardib, or @iamkingrudy. This is another way of registering your name if it has been taken. So add iam + your name to pull through.
Examples of perfect usernames: Wanderlust, FoodieFinder, GlamLifeGuru, NatureNinja, FitnessFrenzy, ThriftedChic, AdventureAddict, Trendsetter, ArtisticSoul, PetPals etc.
Conclusion
As you can see, your individual brand, niche, and style all factor into selecting the ideal Instagram username. The baseline is to stay unique and aim for the best option that can fit right in into your branding strategy. If you implement all of the steps above, you will see your Instagram grow in no time.