Advertising On TikTok In The Second Quarter Of 2023
Published on 01.07.2023 by Mia
Ready to start advertising on TikTok? You've come to the right place. With its rapidly growing user base, TikTok has become one of the most popular social media platforms in the world and a powerful platform for marketers. But, as is the case with most new platforms, there is still some confusion about how exactly to advertise successfully on TikTok.
Not only do you need to know about the platform itself (e.g., how it works, who uses it, etc.), but you also need to understand how to create effective ads that will resonate with its unique audience. Don't worry - we've got you covered. In this guide, we'll show you everything you need to know about advertising on TikTok and how to make your ad campaigns successful.
Overview of Advertising on TikTok
Are you looking to reach a new audience with your brand? Advertising on TikTok could be just the ticket. With over 800 million monthly active users worldwide, it is one of the fastest-growing and most popular social media platforms today. Plus, it's easy to use and has tons of advanced features for advertisers who want to stand out from the competition.
To get started, you'll need to create a TikTok Ads account. Then you have some decisions to make: what type of ad campaign do you want to run, what budget do you have and what should your target audience be? Fortunately, TikTok Ads makes these decisions simpler than ever with its intuitive interface and advanced targeting options. Once all the details are in place, you're ready to send your ad off! All that's left to do is monitor your performance and adjust your budget as needed. As long as you're creative in your approach and use our guide as a starting point, there's no limit to the success you can have on TikTok Ads!
What Makes TikTok Advertising Different?
Advertising on TikTok is unlike anything you've ever done before. TikTok a platform with an incredibly loyal user base of people of all ages—so it presents a unique opportunity to reach your target audience. So, what makes TikTok Advertising different?
For starters, it stands out from other forms of advertising due to its unique format and content. Unlike typical ads that are text or image-based, TikTok Ads feature videos that can be up to one minute in length, allowing them to capture attention more easily than other media formats. Additionally, its algorithmic system makes sure ads are targeted towards users who are most likely to engage with them. Finally, the low cost of entry for advertisers makes TikTok Ads even more attractive for businesses of any size.
Setting Up Your TikTok Account for Ad Campaigns
When you're ready to get started with your ad campaigns, the first thing you need to do is set up your TikTok account. Creating a TikTok account is the key to unlocking all the advertising tools available, so it's important that you get it set up correctly. Here's what you need to do:
Create a TikTok account and profile for your brand

Add detailed information about your business in the "About Us" section

Upload a logo or other images that define your brand

Verify your profile and connect with other social media accounts

Optimize your profile with user-generated content and influencer shoutouts

Follow other brands relevant to yours so that they can follow you back

Post at least three pieces of original content on a regular basis

Engage with users who interact with your content by liking their comments and responding thoughtfully when appropriate
Your finished account should be professional yet engaging—a place where potential customers can learn more about what makes you special and why they should buy from you, while existing customers will find more reasons to come back again and again!
Types of Ads You Can Run on TikTok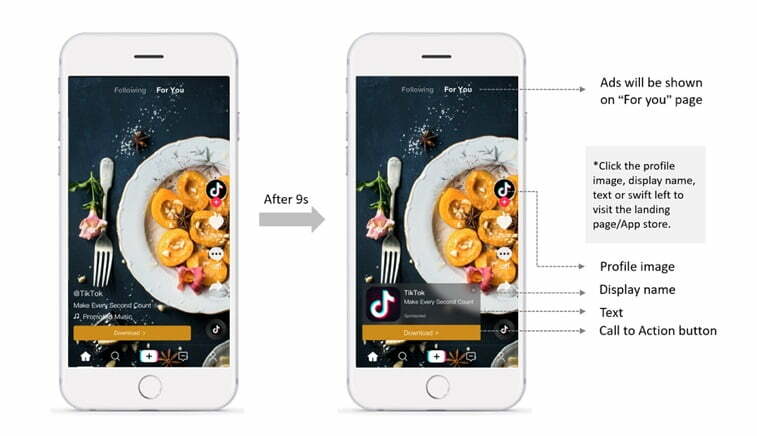 When it comes to advertising on TikTok, there are a few different types of ads you can run. All of them offer their own set of benefits and drawbacks, so it's important to understand each one before you start running ads.
In-Feed Native Ads
In-Feed Native Ads are the most popular type of ad on TikTok. These are full-screen ads that appear within a user's feed and offer the most immersive experience for users. This type of ad allows you to use both video and image formats, so you can really get creative with your content. Native ads also come with a variety of targeting options, including interests, demographics, locations and more.
Brand Takeovers
Brand Takeovers are the second type of ad on TikTok and are typically best suited to larger brands with bigger budgets. These are also full-screen ads but they appear when someone first opens the app or clicks on another user's profile page. They usually include a short video or GIF that takes over the entire screen for a few seconds before redirecting to either a profile page or URL landing page.
Hashtag Challenges
Hashtag Challenges are a great way to engage with your followers and build brand awareness quickly. They involve creating an engaging hashtag challenge followed by an incentive if users complete the challenge within a certain time frame. You can also use hashtag challenges as part of your larger marketing strategy by using them to gain more followers or gather user-generated content for future campaigns.
How to Optimize Your Ads With Targeting & Strategies
TikTok allows you to use the power of targeting and strategies to get the most from your advertising campaigns. There are a few key elements to consider when optimizing your ad on TikTok:
Targeting and Audiences
TikTok makes it easy to target specific users with your ads. You can target users based on demographic data such as location, language, gender, and interests. You can also create detailed audiences by using custom filters, such as age range, interests, and device type. This will help you narrow down who sees your ad and ensure that it reaches the right audience.
Strategies
It's essential to have a sustainable strategy when advertising on TikTok. Think about how often we should post ads, what content should be featured in them, who they should be posted to, and what goals they should achieve. There are a few key strategies that can help you figure out the most effective way to advertise on TikTok:
A/B testing: This is one of the most powerful ways to optimize an ad by testing different versions against each other for performance.

Posting frequency: The frequency of posts will depend on how often your audience uses TikTok and how much content you have available.

Utilizing user-generated content: Using UGC in your ads helps create a more authentic connection with viewers.

Segmentation: Segmenting your audience into smaller targeted groups helps maximize relevance for each group.

Applying creative best practices: Following creative best practices such as messaging consistency is important for creating successful campaigns.
Measuring the Success of Your Ads on TikTok
Ready to measure the success of your ads on TikTok? Of course you are! Luckily, TikTok makes this easy. If you want to measure your ad campaigns on TikTok, there are several metrics you can look at. These will give you a better understanding of how your ads are performing and how they can be improved. Here's a look at some of the metrics you should keep track of:
Engagement rate: This tells you how often users engage with your ads by performing an action like commenting, liking, or sharing. It's important to track this metric because it clues you into how effective your creative elements are in capturing the attention of users.
Click-through rate (CTR): This tells you how often users click on your ads after seeing them. It's vital to track this metric because it shows how effective your ad copy is at getting people interested in clicking through to learn more about what you have to offer.
Cost-per-click (CPC): This metric measures how much each click on your ad is costing you. Tracking CPC over time can help you determine if the cost of running an ad is worth it for the amount of conversions (sales) it generates.
Return on investment (ROI): This metric measures the profitability of a campaign by taking its revenue and subtracting its costs. Tracking ROI will help you determine if a particular campaign is profitable or not and where improvements need to be made in order to achieve better performance results in the future.
Influencer Marketing and Collaborations With TikTok Stars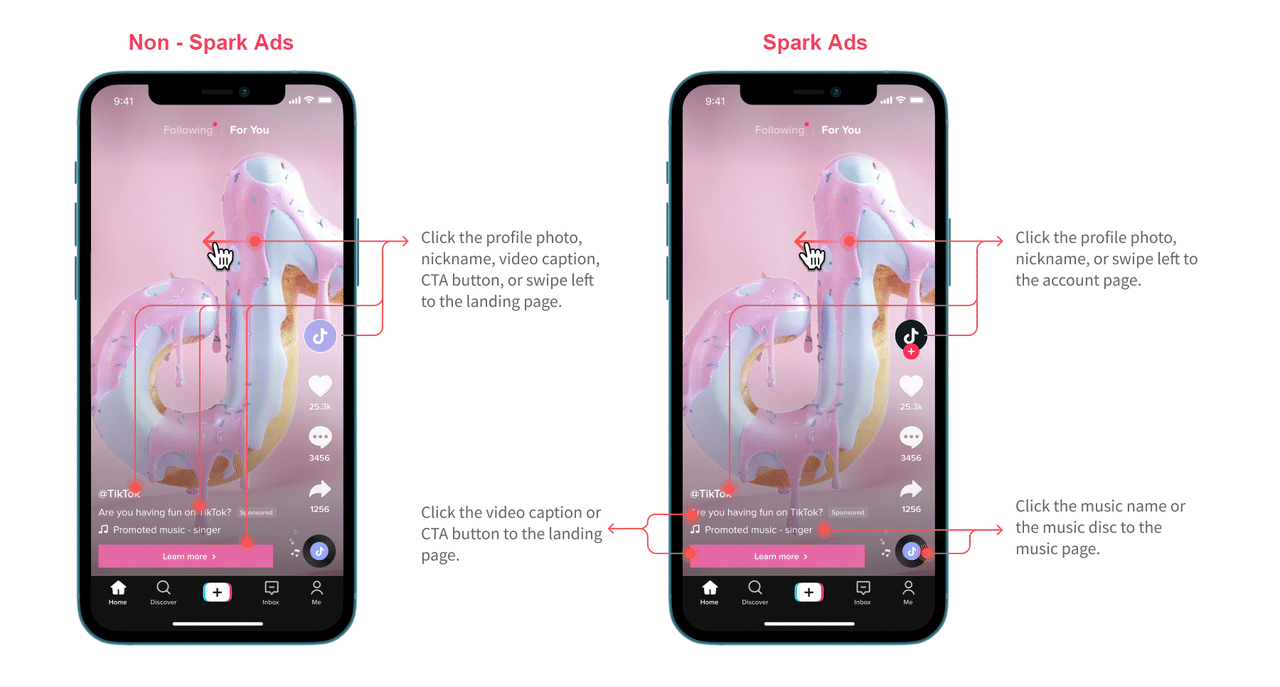 Did you know that the influencer marketing trend has made its way to TikTok? That's right, and it's a great way to clean up on some social media marketing. With TikTok influencers, you can create engaging content that resonates with your audience and drives conversions. Working with top TikTok stars can be a smart way to go if you want to expand your reach and engage with a whole new audience. You can collaborate with influencers on sponsored content, customized videos, or even joint giveaways.
Identify Your Ideal Influencers
Before you start working with any TikTok influencers, take the time to identify which influencer would be the best fit for your brand. Think about how having an influencer as part of your marketing strategy will benefit your company and how their audience might interact with your products or services.
Establish Guidelines for Content Creation
Once you've identified your ideal influencer, it's important to establish guidelines for content creation. Make sure that both parties understand what type of content is expected of them, what hashtags should be used, and any deadlines that need to be met in order to have successful collaboration.
Measure Your Results
Once the collaboration is over, take some time to measure the results of having an influencer as part of your advertising campaign. You can track metrics such as website visits, social media engagement rate, impressions, mentions and more in order to determine whether or not working with an influencer was worth it for your business.
FAQs
Have some more questions? You're not alone—there are a lot of things to consider when running ads on this platform. Here are some of the most frequently asked questions about running ads on TikTok.
What type of ads can I run on TikTok?
You can run six different types of ad campaigns—TopView, Brand Takeover, In-Feed Native Video Ads, Hashtag Challenges, Branded Effects and Branded Lenses—each with its own specifications and pricing.
How much does it cost to run an ad campaign?
The cost of running an ad campaign depends on the type of campaign you choose. For example, TopView campaigns start at $10 CPM (cost per thousand impressions), while In-Feed Native Video Ads start at $35 CPM. Additionally, you may need to budget for content creation, design costs and more.
Do I need to have a presence on TikTok to run an ad?
Yes—you must have an official business profile in order to serve ads through the platform. Alternatively, you can partner with influencers or a creative agency with an existing presence on TikTok and leverage their profile for your brand's ad campaigns.
Are there any restrictions when it comes to running ads?
Yes—there are restrictions around the type of content that can be used in your ads (e.g., sexually suggestive images or profanity) and there are certain industries that cannot advertise at all (e.g., alcohol or gambling). Additionally, there are rules regarding targeting and retargeting that must be followed too. Make sure you read the
Conclusion
Advertising on TikTok is an incredibly powerful way to reach a massive and engaged audience. With its unique algorithms and user-generated content, TikTok is quickly becoming the go-to platform for businesses to connect and reach their potential customers. Understand TikTok's advertising capabilities, to go into building creative videos, and leveraging TikTok influencers, you can transform your business's digital presence and reach a young and tech-savvy audience on the world's fastest-growing platform.