The Ultimate Guide to LinkedIn Advertising for Business Owners
Published on 08.04.2023 by Ice Geek
LinkedIn is the most useful and popular social networking platform for businesses and employment seekers. You can get all types of information related to employment, including job openings, useful blog posts and much more. Companies promote their events and job postings to attract potential employees. If you are in need for a new job, this is the number one platform for you. You just need a profile with your information and it will match you up with the right company.
LinkedIn is a reliable platform for business owners to grow their business. Whether the business is a startup or a large corporation, it's likely that you can find the candidate you need here more so than anywhere else. Having a LinkedIn profile is basically a part of the CV of any professional, so established companies can find new hires here. If your business is a small start-up seeking investors, most investors and business personnel are on LinkedIn. Meaning, it's for everyone. However, if you want to attract potential stakeholders for your business, your advertising has to stand out. It's the only way to generate leads. So what are some of the ways to enter the world of LinkedIn advertising?
Type of LinkedIn Advertising
LinkedIn advertising is a paid marketing tool offered by the platform. It can certainly benefit you in many ways. You can post your job vacancy, new product, or acquisition of an investment. LinkedIn ads help you generate brand recognition and increase your reach. That is, if you know how to get the most out of the service. But before diving into LinkedIn ad strategies, you should know the types of advertisements you can create.
Sponsored Content
This type of native advertising appears on a user's LinkedIn feed. It is one of the most popular ad options. Sponsored content generates the most value for business owners. These ads look and feel like regular posts but are marked "Sponsored" to differentiate them from organic content. Sponsored content can include text, images, videos, and carousel ads.
Sponsored Messaging
Sponsored messaging allows you to send targeted messages to LinkedIn members via the inbox. These ads can be personalized and include a call-to-action button. Sponsored messages are a powerful tool for lead generation. Plus, it is a comparatively low-cost advertising technique.
Text Ads
Text ads are small, clickable ads that appear on the right-hand side of a user's LinkedIn feed or on top of the feed. These ads typically feature a headline, a brief description, and an image. These ads can be shared on multiple sites, including LinkedIn itself. The headlines of these text ads are written like article headlines so that they can capture reader's attention.
Display Ads
Display ads are banner ads that appear on various pages throughout LinkedIn, including the home page, profile pages, and group pages. These ads also include images, videos, and interactive elements. Display ads are a great choice for brand promotion.
Dynamic Ads
Dynamic ads use LinkedIn member data to personalize the ad content and target audiences. These ads feature the member's profile picture and name, making them highly personalized and attention-grabbing. You can also use this type of ad to promote your brand through personal branding. These ads pop up on a user's feed whenever they open the app.
Video Ads
Video ads are similar to sponsored content ads. But they feature video content instead of images or text. These ads can be up to 30 seconds long and can auto-play in a user's LinkedIn feed. You can use these ads to demonstrate your products and services on a more intimate level.
LinkedIn Advertising For Business Owners Step-By-Step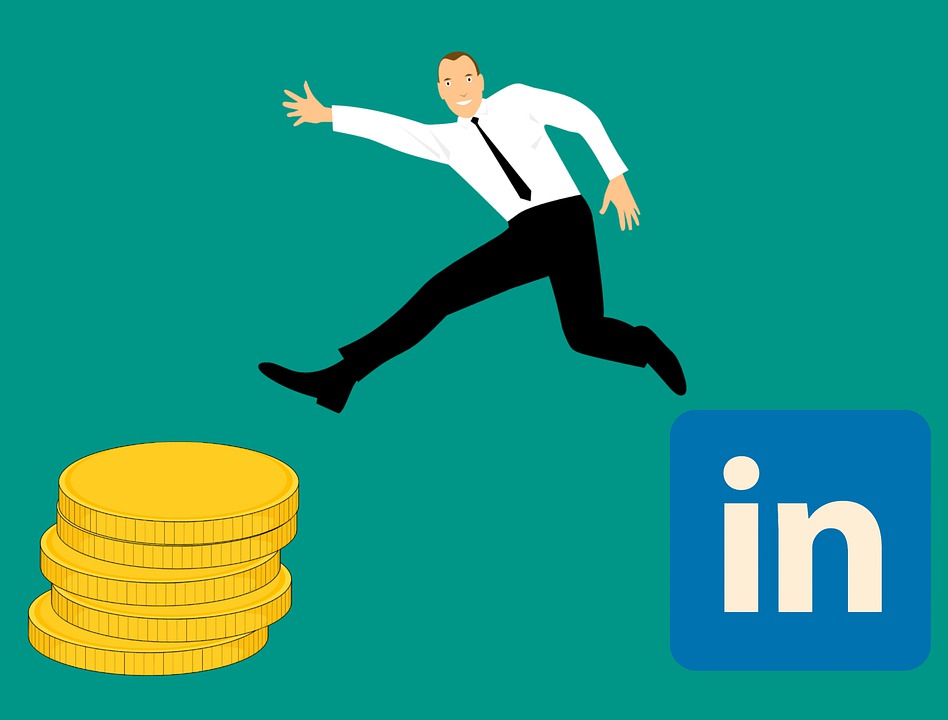 LinkedIn is a powerful social media platform for businesses to reach and connect with professionals in their industry. LinkedIn offers you a unique opportunity to target specific audiences with an ad campaign. A shortcut to getting the right employee, employer, investor, or whoever you are in need of at a specific point in time.
Determine your advertising goals
The first step in creating LinkedIn advertising is to identify your advertising goals and objectives. It will help you decide what the later steps should be. You have to be objective about your goals though. For example, what kind of purpose do you want your ad to serve? You may want to increase your brand awareness. So, the goals of your LinkedIn ads should be generating leads and brand promotion. Paint your brand, products or service you offer in an attractive manner. Visual ads (video ads are the most optimal ones in such cases) would serve you much better than any other type of advertising.
Select your target audience
The second step in creating an advertising campaign is to target your audience. Fortunately, you have a variety of very specifized targeting options on LinkedIn. The platform allows you to target specific audiences based on criteria such as job title, company size, industry, location, and more. It's important to define your target audience to ensure your advertising campaign reaches the right people.
Choose your ad format
LinkedIn offers a variety of ad formats, sponsored content, sponsored messaging, text or visual ads. Each ad format has its own unique benefits, so it's important to choose the format that best aligns with your advertising goals. If you want to generate leads, you can opt for sponsored messages. It will help you talk directly to your prospects to convert them into potential customers. Depending on what type of business you own, the type of content or service you are trying to get engagement for, you should choose whatever is most optimal. Text ad for a bakery is useless. So if an image ad depicting your company headquarters for a new job opening at a broker firm. If you fail to choose the best ad option, all your efforts will go in vain.
Create your ad
After you've chosen your ad format, the next step is to actually create it. One of the major things to consider while creating ads is the headline. If the headline is not eye-catching, no one will click on it. Use attention-grabbing text in bold colors. Use high-quality visuals or it will look spammy. Almost all businesses are using LinkedIn to promote their brands, so you have a bunch of competitors whatever niche you might be operating in. That's why your ad must contain unique content. You have to keep your message clear and to the point. Be shocking but not offensive.
Set your budget and bidding strategy
Budget is another important issue in creating LinkedIn ads. The platform offers you a variety of budgeting options. You can set a daily or total budget for your campaign. You have to pay for each click or reaction the ad gets. That's why you have to choose the correct bidding strategy. Determine how much you pay for each click or impression by not setting it too low as it will directly reflect on low engagement, but don't go over the budget. And only do this after you have the ad at hand.
Launch your campaign
After creating your ad, setting your budget and bidding strategy, it's time to launch the campaign. Post your ad with a paid tool on LinkedIn, and monitor it regularly. You have to ensure your ad's performance meets the expectation so the money, resources and time you have put into it doesn't go to waste. Whatever results you get after a set period of time, you can make any necessary adjustments to optimize your results. LinkedIn provides you with detailed reporting on your advertising campaigns. You can track your results and measure the ROI. Use the data to identify what's working and what needs to be changed.
Conclusion
According to recent reports, LinkedIn has over 900 million users. Everyone, from fresh graduates to experienced professionals, from startups to corporations is on the platform. LinkedIn advertising is a guarantee to the success of your brand or a business, that is, if you know how to use it to your benefit. If you follow the basic guidelines, you can create a successful LinkedIn advertising campaign, reach your target audience and achieve your business goals.