How to Use Facebook Groups for Business
Published on 09.07.2023 by Mia
Facebook Groups can be incredibly valuable for businesses to connect with their audience, build relationships, and promote their products or services. With nearly 3 billion active users on the platform, there's a huge potential audience waiting to be tapped into. Groups, is probably the best feature to concentrate and develop when growing a business. However, knowing how to use it effectively requires a solid understanding of all the features. Learn the top five ways to use Groups to stimulate your business, including the strategies for engaging with potential audience, and driving conversions.
Why Use Groups For Growing Your Business?
A group can be an excellent strategy to develop and strengthen your brand by facilitating communication and creating a community around it. It allows customers to discuss your products and services, making them feel like a part of the community. This way, they are more likely to remain loyal to and recommend you to others.
One of the primary advantages of a Facebook group is that you directly influence your business reputation. You provide a platform where your customers can discuss your products/services, monitor their feedback and address any issues or concerns directly. This can help you improve your offerings and enhance the customer experience, increasing customer satisfaction and loyalty.

Another benefit is that it's a direct communication channel. You can keep your customers informed and engaged by having a space where you can share updates, new product releases, giveaways and other relevant info. This can also help you gather valuable metrics and insights for the future of your business.

Groups can help you maintain trust with your most loyal customers. You can give them exclusive access to some products/services, showing them that you value and appreciate their loyalty. This can help you creating a deeper connection and a sense of community beyond your business relationship.
5 Ways to Use Facebook Groups for Your Business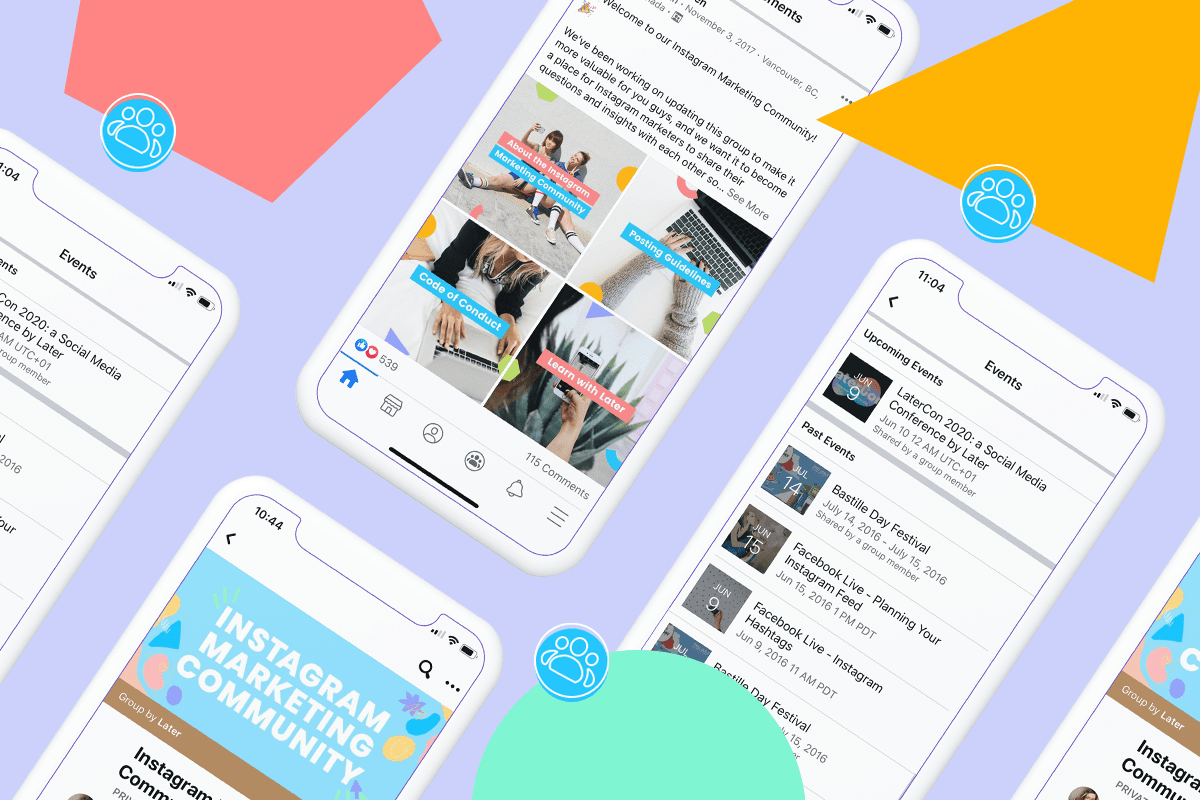 Create exclusive content for your group
Providing exclusive content, they won't find anywhere else is important if you want to keep your group members engaged and interested. This can create a sense of exclusivity and value within the group, increasing its overall appeal and making it feel more worth their time. One effective way to do this is by offering early-bird discounts. This could involve allowing them to purchase new products or services before they are made available to the general public or providing them with limited-time promotions only available to group members.
Another great way to create exclusive content is by hosting live streams through Facebook Lives. This could involve broadcasting live interviews with industry experts, hosting Q&A sessions with group members, or sharing behind-the-scenes looks at your business operation. Such exclusive insights and access, really helps grow a genuine community and engagement within the group while also providing you with valuable information and resources you'd otherwise have to spend a lot of money on.
Promote your every event on the Facebook group
Using Facebook groups for your business can be an excellent marketing strategy if you frequently organize events.
Groups make it easy to notify members of upcoming events, allowing them to save the date, remind and attend.

Promoting your events multiple times within the group is crucial to catch their attention.

If you mention the event only once or twice, people will likely miss it, so promote the announcement several times.

Use catchy and engaging language to create excitement about the event and encourage participation.

You can also use group marketing to provide additional information and updates about the event, such as guest speakers, schedules, and any changes.
Keep the right engagement with group members
Engaging with its members is crucial when managing groups to ensure its productivity, progress, and a respectful environment. Don't exert too much control over though, as this could stifle engagement and limit members' willingness to share their thoughts and ideas. Instead, admins should encourage members to initiate discussions and feel safe enough to express their opinions.
Accepting feedback, whether negative or critical, is also essential. For instance, if a recent product launch didn't go as planned, the admins shouldn't try to police negative feedback or treat the group as a positive echo chamber. Instead, allow everyone to point out exactly what went wrong, thank them for their feedback, and continue the conversation. This way, you will show them you are all about openness and transparency.
It's also important to balance openness and regulation. While admins should allow members to express their opinions freely, they should also ensure that the group's discourse remains civil and respectful. This means monitoring the conversations, intervening if necessary, and creating guidelines that promote respectful and constructive activity.
Have a brand ambassador
Building a Facebook group can be an effective business strategy for staying connected with your top customers and creating promotion campaigns. Having brand ambassadors as admins in your group can:
Promote your products or services and champion your brand's image, which can help attract prospective customers and retain existing ones.

Build trust and credibility among your audience, which is essential for growing your business.

Involving your ambassadors in testing new product features before release, can get you valuable insights from your most loyal customers before rolling them out to a broader audience.

Create a cohesive brand image. The person is connected with your brand, whenever, wherever they appear, the first thing most people will think of, is your brand.
Ask for feedback from your Facebook group
Asking for feedback from your community is a great way to retain customers and improve product quality. It allows you to receive honest and direct customer feedback, giving insight into what you can improve. Such feedback not only helps you improve your products, but also strengthens your relationship with customers. This way, you build trust and foster a sense of community and importance. Incorporating customer feedback into your product development process can lead to better products and higher customer satisfaction.
Conclusion
Actively developing and participating in a Facebook group can lead to a more fulfilling social media business ventures. You can create a sense of community and mutual learning by sharing exclusive and valuable content, asking questions, commenting on posts, and engaging with other members. Consistently providing high-quality content from your side, you can encourage other members to do the same (in the form of word-of-mouth marketing basically) and foster a thriving community where members feel valued but serve as a form of advertisement.