How to Find the Right Products for Your Dropshipping
Published on 25.04.2021
I want to teach people how to find products for drop shipping. Facebook is the biggest marketing tool but I want to teach the first step - finding the right product. If you are new in this business, it might be a difficult task for you. But there is no need to worry because I am going to share with you a few tips that will help you in your quest!
Firstly, understand what kind of niche do you want - Do you have any idea about the products? You don't need a lot of things and they can be from different niches like beauty, fashion or electronics;
Most popular niches in e-commerce
What are the most popular niches in the e-commerce space? Here we will share with you the most popular and trendy niches in 2021.
Products to look after a beard are very popular.
There are a lot of men's grooming products that you can offer to your customers. Men's razors and shaving cream has been trending for years, but now it is more popular than before with the introduction of new brands. You can easily start with a grooming brand from Alibaba or Aliexpress. Check the image below - it's easy to see how easily you can find grooming products for your brand. You can buy products for a cheap price and get good profit margins. For instance, you can buy Razors and get private labeled by the Chinese factories. You can get branded products and sell from China straight to the USA or EU.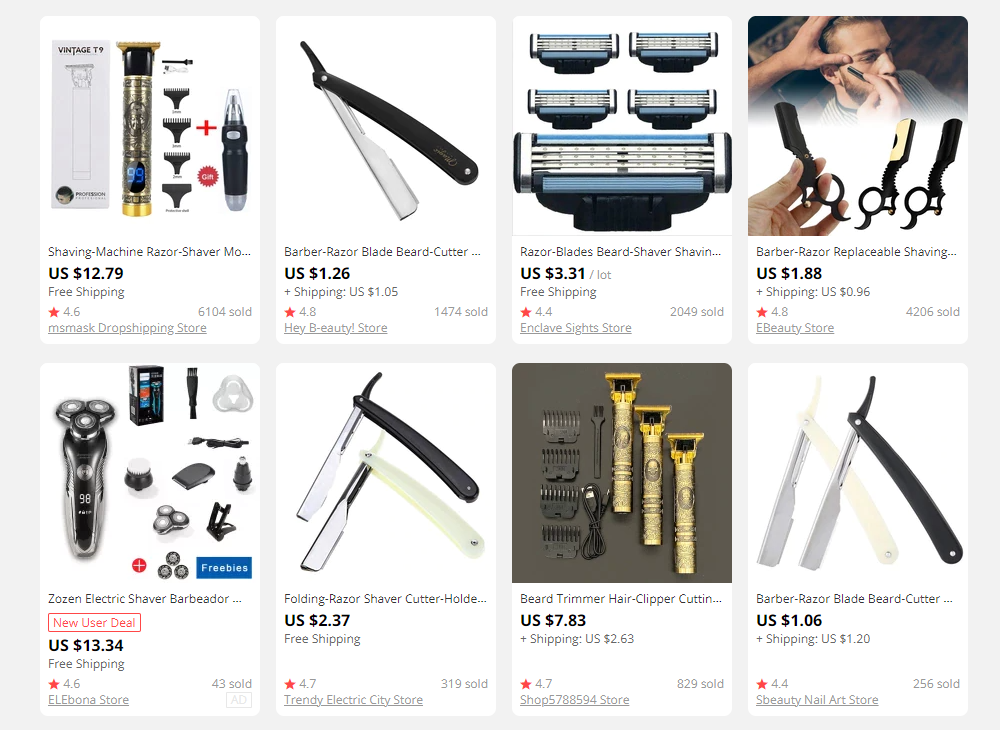 Cosmetics (Example from Kyle Jenner)
it's not a surprise that big YouTubers or celebrities step into this space. Kyle Jenner became very popular because of the reality show. Then she stepped into the beauty space and became a billionaire. Why are cosmetics products so popular? Because for every woman, it is important to look good. What are the steps of process? You can find cosmetics products on social media influencer's profiles or go to Alibaba and start researching.
Aliexpress or Alibaba?
There are many platforms where you can find cosmetics products. Aliexpress is the biggest marketplace for drop shipping but it has a little bit pricey items so I recommend choosing Alibaba instead. Keep in mind that Aliexpress is a company owned by Alibaba. Both of those companies are founded by Jack Ma. Chinese billionaire knows how to master e-commerce and he was one of the first guys who believed in e-commerce 30 years ago. Aliexpress is mostly used by retailers while Alibaba is perfect for wholesale strategies. If you want to get cheap prices, then you should buy from Alibaba and buy more pieces at once. For instance, buy 100 pieces of cosmetics with a private label. (check the image below - you see that Alibaba suppliers always give you chance to decrease product price if you buy more pieces at once)