How to Delete a Story on Instagram
Published on 17.06.2023 by Mia
You had a great time filming that day. You were living life to the fullest and had plenty of memories to share with your followers. But now the moment has passed, and you want to delete that Story from Instagram. How do you do it? Don't worry, it's not as hard as it seems! Deleting a Story on Instagram is really easy, once you know how to do it. In this article, we'll show you exactly how: step by step. we'll also discuss what happens when you delete a Story and answer some of the most frequently asked questions about Story deletion.
When to Delete Stories vs Highlights
Have you ever posted an Instagram story, only to regret it afterwards? Whether you just told one too many inside jokes, or you accidentally posted something you shouldn't have, deleting stories on Instagram is a totally normal thing to do. But here's the thing: when it comes to taking things down from your profile, there are two options when it comes to Instagram stories—you can either delete them completely or add them to your Highlights.
Deleting an Instagram story completely means it won't appear in anyone else's feed and will be cleared from your story archive. But if you want posts to stay archived on your profile but hidden from followers, adding them to a Highlight is the way to go. This way fans can still see what stories you have (unless they've been added to a private Highlight) without having access to certain content that may be outdated or irrelevant.
How to Delete an Instagram Story
If you've posted a Story on Instagram that you'd rather not have out there, you don't need to worry—you can delete it easily. Before proceeding, note that once it's gone, it's gone for good—you won't be able to recover it in the future. Here's how you can delete your Instagram Story:
Go to your profile page and click on the "Your Story" thumbnail in the top left corner, or swipe right from anywhere in Feed. This will open up your most recent story in full screen mode.

From here, click on the three dots at the bottom right of the screen and select "Delete." This will bring up a confirmation popup asking if you want to delete this photo or video—select confirm and your story will be permanently removed.

To delete multiple stories at once, meaning those that have expired or were posted more than 24 hours ago, go to "Your Stories" in Settings located in your profile. Select any number of stories with a checkmark and then tap on Trash Can icon at the top right corner of your screen. Confirm that you want to discard them by selecting "Discard Selected."
So now there's no need to panic if you hit "Share" by accident—just follow these steps and your story will be removed from Instagram!
Deleting Multiple Story Posts
Did you post multiple stories on the same day? No worries, you can delete them all with one swipe. Here's how to do it:
Tap on your Story thumbnail at the top of the News Feed.

Swipe left or right across all stories to select multiple stories at once.

Tap the trash can icon at the bottom of your screen to delete them all in one go. Note that this will delete all selected posts and cannot be undone.
And don't worry—none of these deleted stories will appear in your profile or news feed history, even if someone has already seen it before you deleted it. So, you can rest assured that no one will see the post again if you decide to delete it.
What Happens After Deleting a Story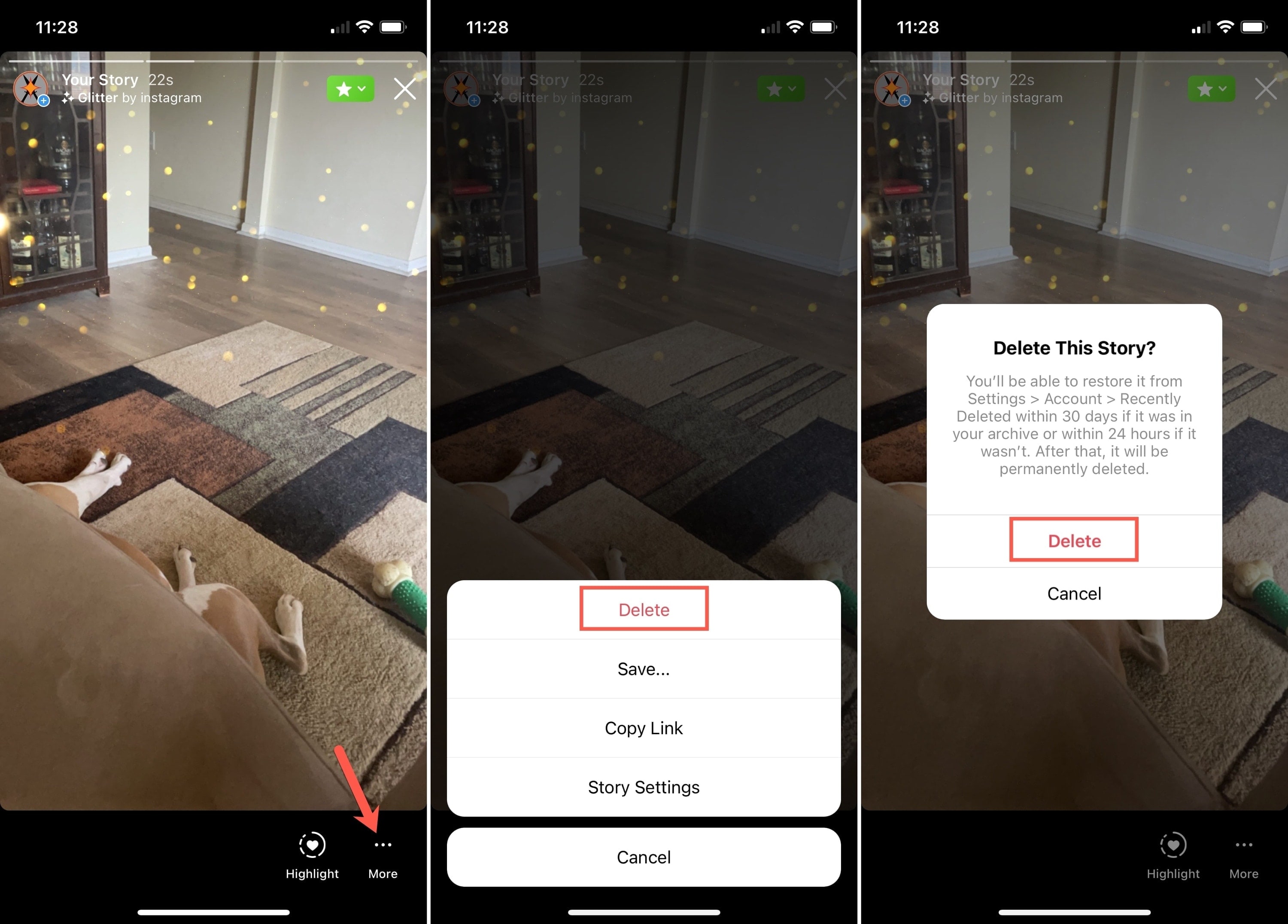 You might be wondering what happens after deleting a Story from your Instagram. Well, it's pretty simple. When you delete a Story, it will no longer be visible to the public or to any of your followers. The Story is also removed from any messages where it was shared, and will no longer appear on your profile or in Instagram Search. So that means you don't need to worry about someone seeing the Story after you've deleted it. However, it's important to remember that deleting a Story doesn't delete any comments on it—so if people have posted comments on the Story you've deleted, they'll still be visible to anyone who can see them until they're deleted manually.
How to Hide Unwanted Stories From Your Profile
Maybe you've put up a Story that you later regretted and now want to take it down? No problem, you can easily hide unwanted Stories from your profile without having to delete them. You can even choose to hide Stories from specific people, or all of them. Here's how:
Go to your profile page and select the three-dot menu in the top right corner

Tap "Stories Settings"

Select "Hide My Story From" and select which people you want to hide your Story from (or select "Everyone")

Tap "Done"
Your story will now be hidden from the people you selected, but will still remain on your profile page for future reference or editing if needs be. Additionally, any comments, likes or views that were associated with the Story will remain visible so that the original viewers can still see them. This is a great way to keep unwanted Stories from appearing on your profile, while still maintaining the original content in case you need it at a later time.
Recycling Content by Adding Stories to Highlights
You may also want to delete a story because you'd like to re-use the content. No problem — Instagram makes it easy to recycle stories by adding them to your Highlights section. If you have a Story that you'd like to relive, head over to your profile and tap 'Highlights'. Here, you can add Stories from your archive as highlighted Stories — which will show up at the top of your profile for anyone who visits it. You can even give each collection of Highlights its own title, description and cover image! It's a great way to curate your stories and promote yourself or your business in the process.
Tips for Avoiding Mistakes With Stories
Nobody wants to accidentally post an embarrassing story on Instagram! Mistakes happen, but you can avoid them by following these tips.
Preview Before Posting
Don't rush and hit that post button right away—it's important to preview your story before posting and make sure everything looks good. If not, you can always edit or delete it before people have a chance to see it.
Don't Over Post/Post Too Much Info
Nobody likes when someone posts too many stories in a row or posts too much information at once. Try to be mindful of how often you post, and don't overload your followers with too much content in one go—spread it out across multiple days instead.
Use the Countdown Feature
The countdown feature on Instagram is great for scheduling stories in advance, so you can plan what days and times your stories are going up without having to manually post them every day. That way, you can make sure everything is ready ahead of time instead of rushing to publish it at the last minute.
Double Check Your Profile to Make Sure It's Gone
Once you've deleted your story, it's a good idea to double check your Profile page and make sure it's gone. To do this, head to your Profile page, click on Story Highlights, and then select Stories. You should see an empty page without any of your stories visible.
If you've changed your mind about deleting the story, or want to repost it, you can easily recover it by clicking the clock icon in the upper left-hand corner at the top of your profile page. This will show you all past stories that have been posted in reverse chronological order. To restore something, click on it and hit "Replay" that appears in the bottom right corner!
FAQs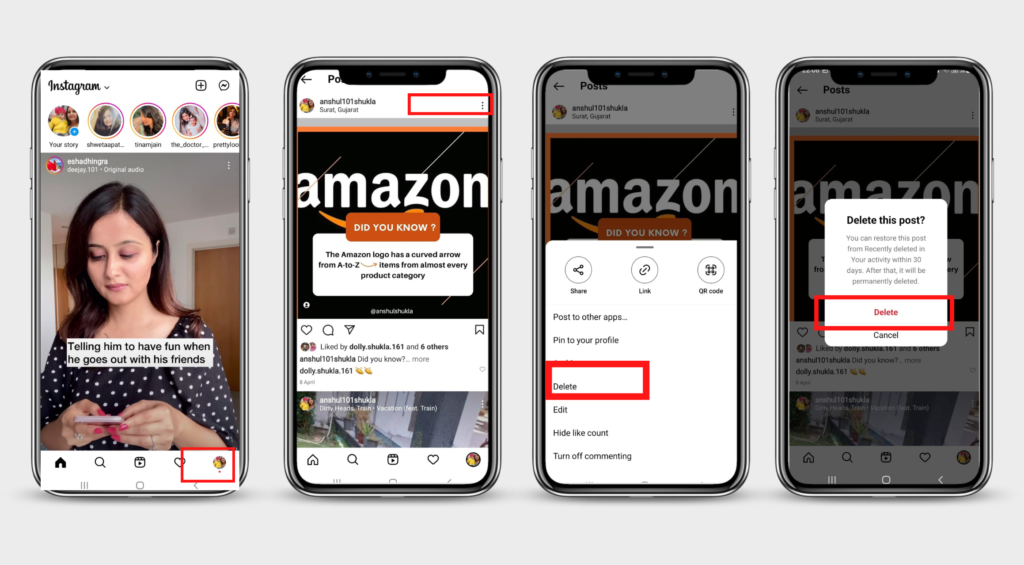 Do you have further questions about deleting an Instagram story? Here are some FAQs that may help.
Can I delete a story from someone's profile before it has even been posted?
Yes, you can delete a story before it has even been posted to your profile. Simply click on the trash can icon located on the lower right corner of the story before you post it.
What happens if I delete a story from my profile?
When you delete a story from your profile, it will disappear from your profile and all of the other user's who viewed it. It also won't appear in hashtag and location pages.
How long do stories stay up after they are posted?
An Instagram Story can remain up for 24 hours — but once it is deleted, it will disappear immediately. Additionally, if no one views the story within 24 hours after posting, the story will automatically disappear.
Can I view my own deleted stories?
No — once a story is deleted, it is permanently gone and cannot be viewed again. To make sure that memories don't get lost in case there is something worth saving, try using Instagram's Archive feature which allows you to save posts and stories privately and access them at any time!
Conclusion
Deleting a story on Instagram is simple and straightforward—just find the post, tap the three dots or swipe left, then tap delete. Remember that deleting posts or stories from your feed won't delete them from any other accounts; if you want to permanently delete your story, you'll have to go into your story settings and delete it from there. Remember, Instagram stories last for 24 hours, so think twice before you post something you may regret. By deleting an unwanted story, you can keep your feed neat and tidy and make sure you are always putting your best foot forward.